Are Single Speed Bikes Good for NewYork City?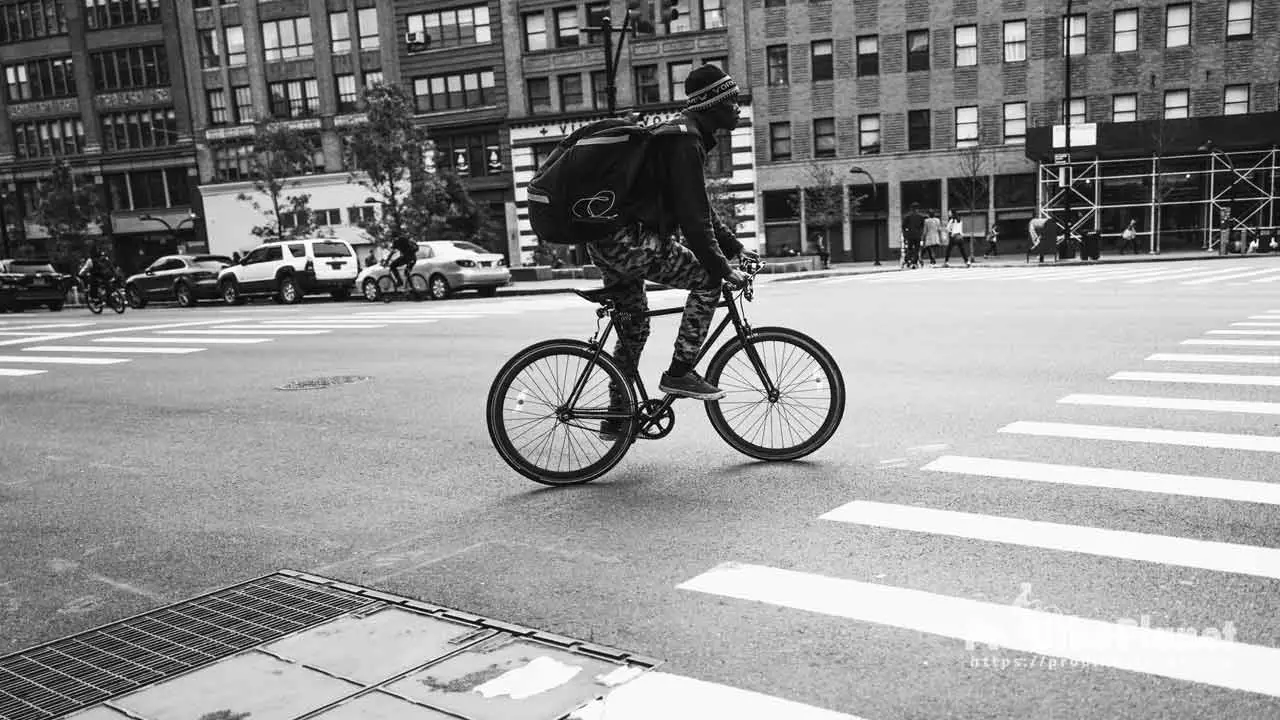 As a former bike messenger in Melbourne, Australia, I am often asked about the best bikes for cities and New York City in particular.  While you can ride almost any bike in NYC some are better suited for city streets.
Single-speed bikes are great for New York City since the city is relatively flat and multiple gears are not necessary. As a bonus, they are easy to ride, work great for frequent starts/stops, have low maintenance, and are less likely to be stolen.
In today's post we will review what makes single speeds ideal for New York City, different types of NYC riding, and a few of my favorite bike routes in the city. During my time as a bike messenger I learned a lot about city riding and excited to share my experience.
Why Single Speeds are Good for New York City
First single speeds are great in general and riding them in a city is even more fun.
Easy to Ride
Single Speeds are super easy, all you need to do is hop on and pedal. The design simplicity makes them similar to kids bikes with no gears or complicated mechanics to figure out.
The frame geometry is designed for a comfortable riding position and make for easy steering and bike handling.  Additionally your body position is more upright making it easier to view and take in all of your surroundings. The more your can see and observe the safer you will be on the bike.
Good for stopping and starting
Since single speeds only have one gear, that gear needs to be as versatile as possible. The gear is best suited for starting to pedal, it is low enough that when you start to pedal you can feel the resistance but it is not so difficult that it is impossible to pedal.
With all the traffic lights, cars, pedestrians and other obstacles there is definitely a lot of starting and stopping. If you are not sure about this just look at what all the bicycle delivery guys are riding, upright, single speeds because that is what works best.
Fewer Parts Easy to Maintain
Having a bike with fewer moving parts is ideal.
No rear gears to keep aligned
No rear cassette to clean
No front derailleur to adjust
No shifters to maintain
No shifting cables to stretch out
These items are huge bonuses when in New York City. Fewer parts means a less expensive to maintain and less to break leaving you stranded.
Also when you are out riding there is less to worry about should the bike get bumped on a bike rack or fall over when leaning on a wall.
Less Expensive / Less Likely to Be Stolen
This is one of my favorite reasons for riding a single speed. They are less expensive, have fewer parts and less attractive to steal. The lower price point and lower resale value makes them a less attractive item to steal.
This means when you lock your bike up while stopping for food or going into a store you can relax more because you do not have a $10,000 carbon road bike parked on the street. This piece of mind can make your day much more enjoyable.
Mostly Flat City
New York City is a mostly flat city which makes single speeds exceptionally ideal. No big hills to climb no steep descents, just smooth easy pedaling.
In contrast think of San Francisco with all of its crazy steep hills and pedaling a one gear bike up those hills.  Pushing up hills in San Francisco does not seem as enjoyable as the relatively flat streets of NYC.
The Full City Experience
On a Single Speed you are able to get the full city experience. You can go anywhere and do anything. From cruising through the different neighborhoods to touring Central Park, a single speed fits all riding styles.
All of the above reasons go combine to give you a great time riding bikes in New York City.
Different Types of Single Speed Riding in NYC
Single speed bikes can meet the needs of all types of riders in NYC, depending on how you what you need to do. Whether you're riding short distances, riding for exercise, commuting, or riding long distances, a single speed is a good option.
Short Distance Riding
If you're a bike rider looking to ride short distances. Whether it is to a friends house a meetup, or just a quick tour of the city. A single speed just lets you pedal and go.
No gears, no shifters, no front derailleur, no rear derailleur, no worries. The lack of mechanical complexities makes it easy to maintain helping to keep a busy New York City life simple.
Single speed bikes are also light-weight, meaning they're easy to lift or turn, especially when cleaning or carrying them up the stairs after a short ride.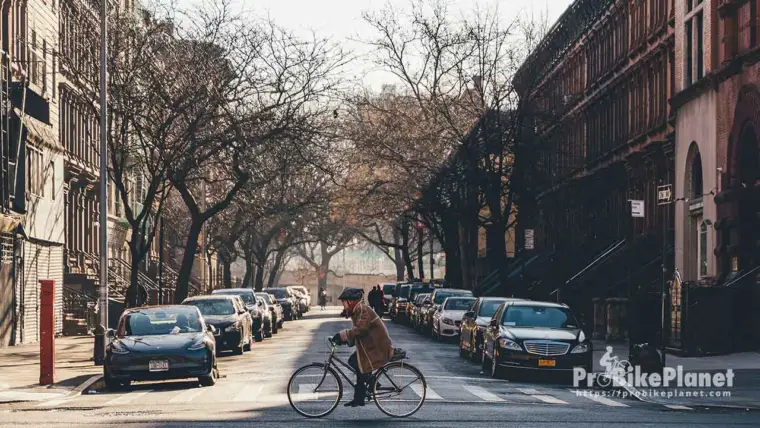 Exercise Riding
Single speed bikes are a great way to get exercise in.  No gym fees, you can ride anytime and it is fun.  Having only on gear keeps your legs working and your heart pumping because when you get to any small hills or bridges, you just have the one gear and your legs to get you to the top.
Additionally, a single speed bike will let you focus on your heart rate, perceived effort and pedaling cadence rather than shifting gears. Plus there is a great feeling of accomplishment when you get the one gear bike to higher speeds.
Bike Commuting
NYC and commuting on a single speed is an excellent match.  Bikes can go just about anywhere. They ride on the streets, jump the curbs, go on the sidewalks, or you can hop off and take the bike anywhere you can walk.  All of this flexibility means you can take the shortest/fastes route possible.
Also most single speeds are not super expensive which means you feel more comfortable locking them up outside.  My guess is that if you had a $10,000 carbon frame road bike you would not feel comfortable leaving it outside on the city streets.  With a single speed they are not as valuable so less likely to be stolen.
Distance Riding
For serious distance and competitive riders in NYC, Single Speed Bike is the way to go. This bike has handlebars that provide a comfortable holding position during a long ride.
Their frame structure and light-weight make them suitable for rides longer than 20 miles.  It is a lot of work to pedal a single speed for long distances but you have such a sense of accomplishment when complete.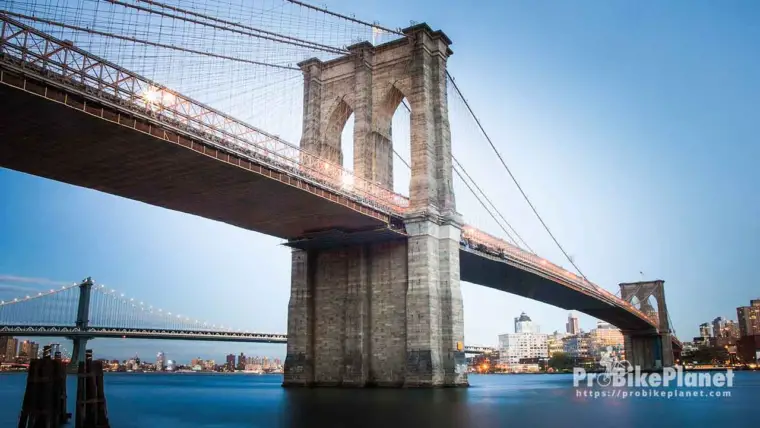 Great Routes for Single Speed Bikes in NYC
The following are eleven great routes in NYC for riding a single speed bike and exploring the city.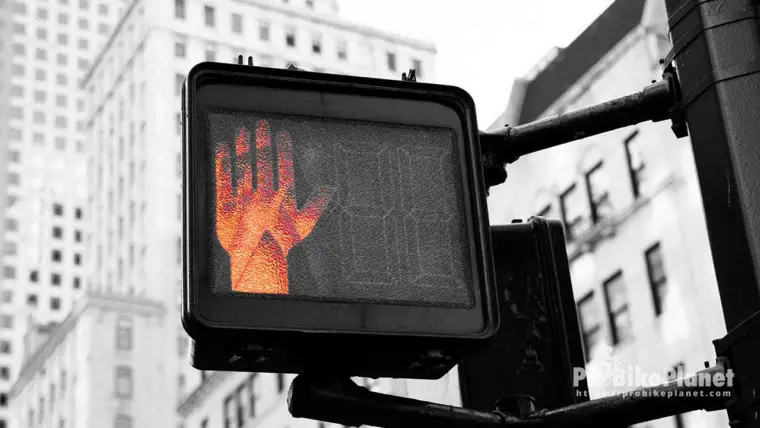 Why Is Single Speed Bike Riding Safer in NYC
Here are several reasons why riding your single speed bike in NYC is safer than other transportation options:
Designated bike lanes that allow you to ride your bike on a clear road just next to a pedestrian sidewalk. This means you can't be doored or knocked by careless motorists.
You can ride with confidence as you're super aware of your surroundings since nothing stands on your way. This way, you can ride defensively through the streets and have a safer ride.
You can use Google Maps to direct you to the safest bike lanes around the city, so you don't have to worry about making a wrong turn.
Most drivers are at lower speeds as traffic law prohibits motor vehicles from exceeding 25mph (40kph) across NYC. This means everyone in the city is moving slowly, can stop more quickly, or turn faster to keep you safer.
More people have begun to ride around NYC, meaning the pedestrians and motor vehicle drivers have become aware of interacting with cyclists in the streets.
Summary
This post explained why and how single speed bikes are suitable for biking in NYC. It also discussed other related topics showing the efficiency and suitability of riding a single speed in NYC.
If you want a fast, light, stylish, and lower maintenance bike for exercise, kid practicals, long-distance riding, or bicycle commuting in NYC, this bike will serve you better.
Don't be afraid to ride your single speed bike around the NYC streets because cycling is safer than other transport means in NY. Now wear your helmet, take your bike, and enjoy your ride!
Additional Reading & Sources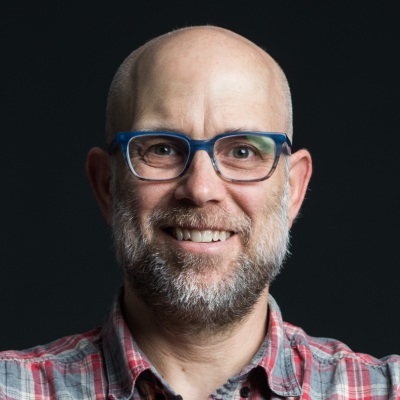 I am Steven Johnson. All my life I have been riding bikes, even working as a bicycle messenger in Australia. I love riding road, mountain, single speeds, bmx, and everything else.  As a web designer, creating this site was a natural fit. If you have any questions please let me know.  Enjoy the site and Keep on Pedaling!!!