The Best Cassette Pliers – Suggestions & Reviews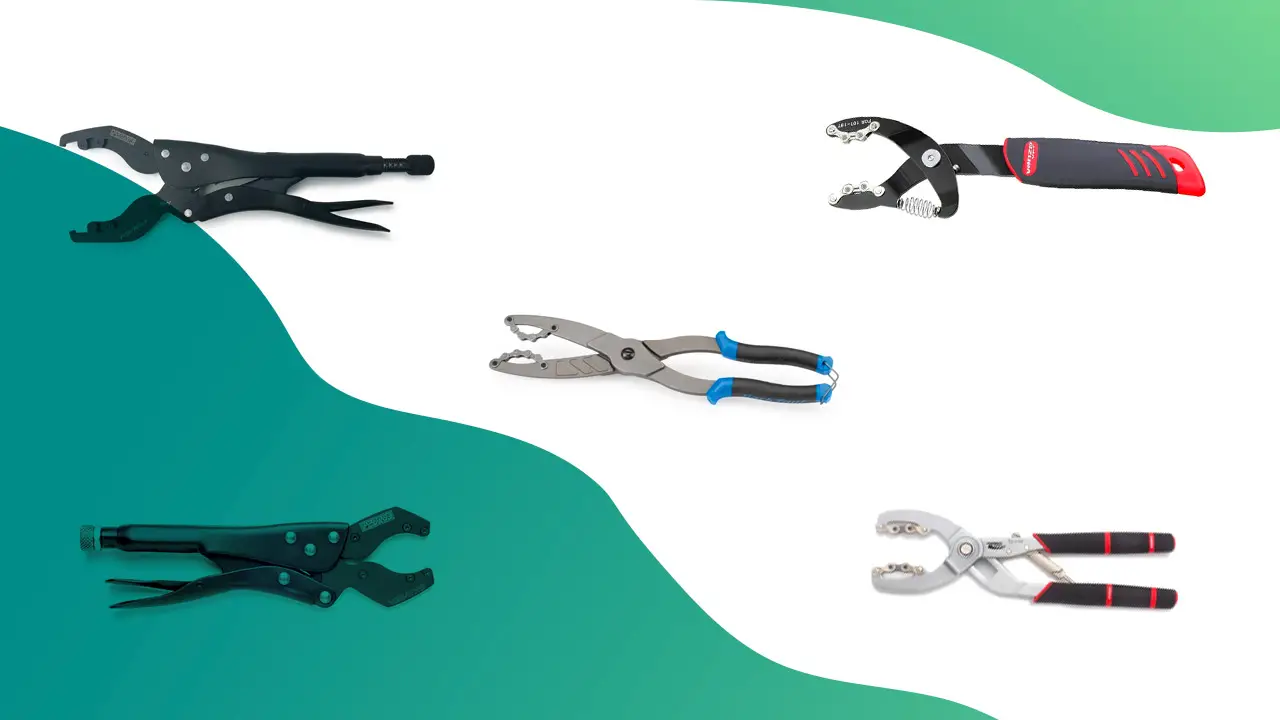 Several years ago, after breaking a chain whip on an old cassette, I took the wheel to a bike shop. There I saw the shop using some sort of pliers to remove the stuck cassette. At that point I knew these cassette pliers would be a perfect addition to my bicycle tool kit and it was.
Pedros Tools and Park Tool makes some of the best cassette pliers. They give you a solid grip on the cassette making it easy to remove. Additionally they are well made, solid, durable and easy to use.  
What are cassette pliers?
Cassette pliers are similar to regular pliers, except they are designed specifically to give you a solid grip on the cassette. If you were to use regular pliers on a cassette you will most likely damage the teeth on the cassette, making it difficult to pedal your bike.
They are different than a chain whip because they are more securely attached, allowing you to apply more force. This additional force makes easier to remove the cassette from the rear wheel.
A pair of the Pedro Vise Grips locking onto a cassette.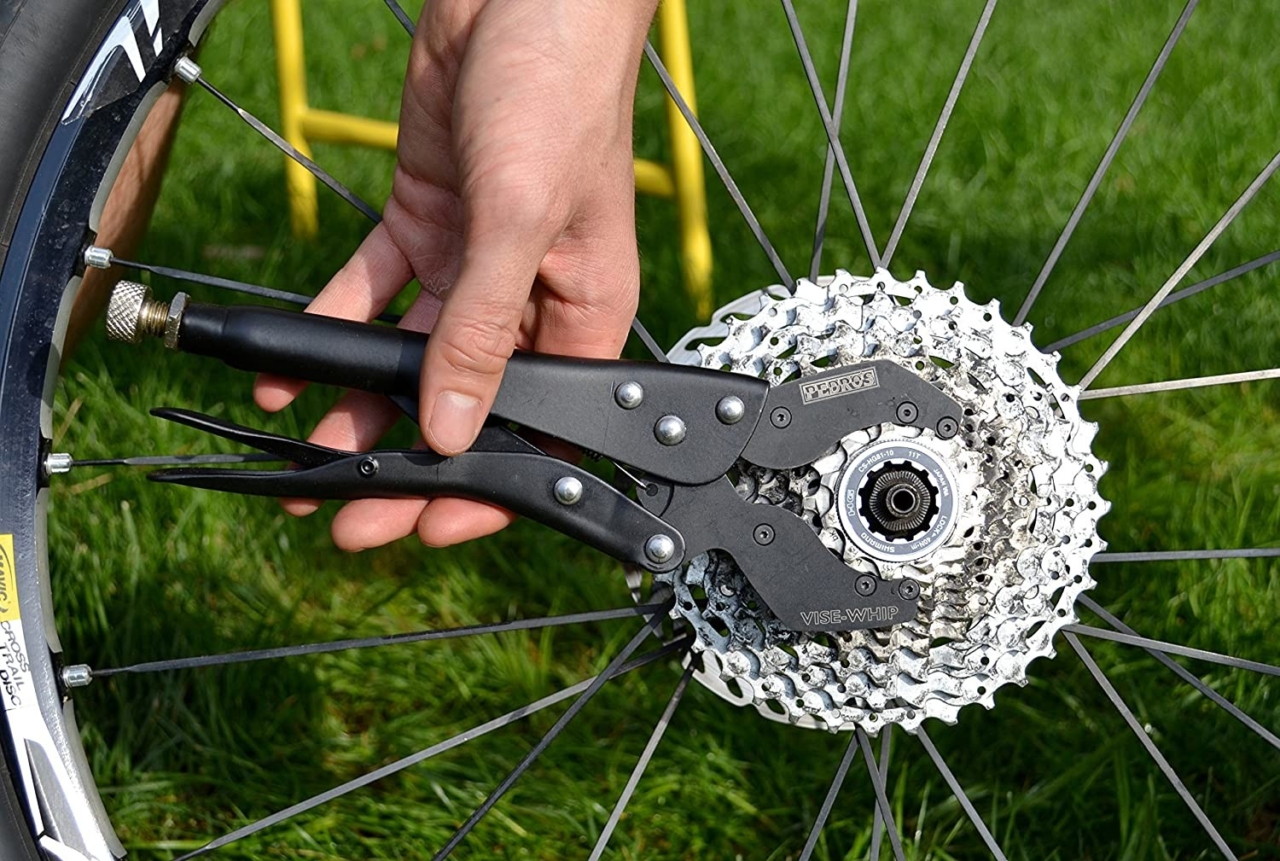 Once you have a solid grip on the cassette then you can use the lock ring removal tool to remove the lock ring allowing you to remove the cassette. 
If you did not have the pliers then the lock ring removal tool will spin in the same direction as the cassette keeping you from removing the cassette.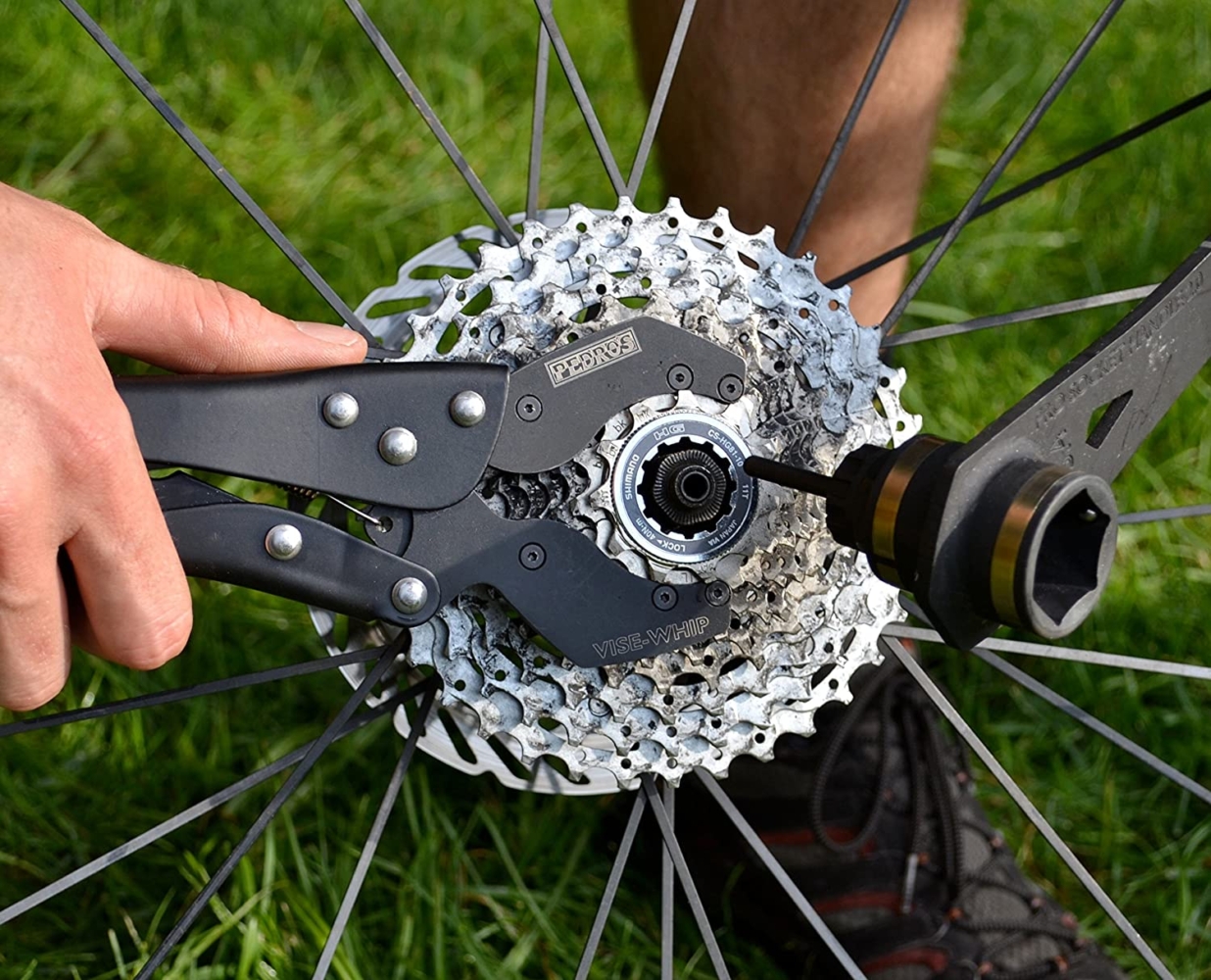 To replace a cassette or to change it out for a different one, requires you to hold the wheel fixed in place, while you remove the lock ring. To do so is no easy task.
There are many DIY methods that work if the lock ring isn't too tight. Such as, using a block of wood on concrete to jam it in place. Or, using a heavy-duty cloth to hold the cassette with your hand. 
But, both these and other methods don't work if the cassette is very tight, which is the case most of the time. For this reason you need to use a tool that holds the cassette in place which is either a super strong vice type of tool, or a tool that holds a piece of chain firmly on the cassette to keep in place.
What to Look for When Buying Cassette Pliers
The following should always be considered when comes to selecting the best cassette pliers. These are the criteria that I use.
Ease of Use
Cassette removal pliers to be easy to use. If they are not easy to use, then you will not use them. Make sure you purchase tools you like using.
The pliers should feel good in your hand, attach easily to the cassette, and not slip, giving you a solid grip for removing the cassette.
Additionally, they should not do any damage to the cassette during the removal.
Construction Quality/Durability
Look for strong and durable pliers, you will have these a while so you want them to last.
Better construction quality means they will get more use, feel solid and be more reliable.
You do not want a tool that feels like it will break when applying force while removing the cassette.
Reputation of Company
Going with a well known and respected company typically means higher quality products and support. Additionally should there be a problem with the tool their customer service will he available to resolve the issue.
Sometimes money can be saved by going with a knock off or less expensive brand.  When you go this route and have issues, the manufacturer will be difficult to find and you will most likely be buying a new pair of cassette pliers.
When it comes to Bike Tools, Pedros and Park Tools are two well known and quality brands.
Warranty
If it good to know what the warranty and warranty time frame is.
The better the replacement policy is and the longer it lasts is a key purchasing factor.
When a company has a better replacement policy, you know they are more confidence in their products.
Price
Price can be a tricky thing. Just because it is more expensive does not mean it is better. Usually a higher price mean a better tool but not always.
Cassette removal pliers typically cost between $25 to $75. 
Top End/Bike Mechanic Quality – $50 to $75
For a pair of bicycle shop quality pliers you can expect to spend between $50 and $75. These will be suitable for lots of use and easy to work with.
Mid Range – $35 – $40
In the mid range you might spend around $35 these will be good quality but not have all the features and innovative design as the high-end options.
Low End – $20 – $25
At the low end you can expect to spend around $20 to $25 these may work for occasional use. They could work well or may fall apart depending on how often they are used and how well they are taken care of.
Cassette Pliers
Pedros Vice Whip II (Around $70/released November 2020)
Pedros Vice Whip (Around $50)
Park Tool CP-1.2 Bicycle Cassette Pliers (Around $50)
Park Tool 373-246 Chain Whip Pliers (Around $50)
Feedback Sports Cassette Pliers (Around $35)
Venzo Bike Bicycle Cassette Remover (Around $25)
For each of tool we have an overview and go into construction quality, ease of use, customer reviews, and our thoughts.
Pedros Vise Whip II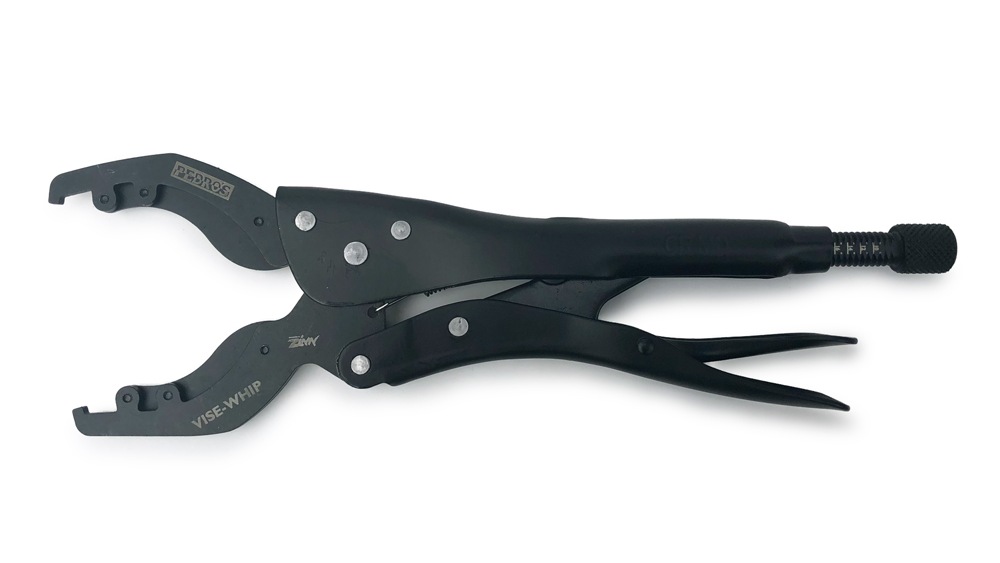 Pedros Vise Whip II Overview
MSRP: $64.99
Street Price: about $65 – $70
First Available: October 2020
Manufacturer: Pedros
This is the updated version of one of the best. In addition to working on rear wheel cassettes, it now works with track cogs, cog & bottom bracket lockrings, and e-bike chainrings.
The adjustment knob now has markings that let you know the number of cassette teeth for quick reference. The Vise Whip 2 fits 9 – 23 tooth gears, 40-46mm outer diameter lockrings.
Pedro's Vise Whip II Cassette Removal Tool Unisex Adult Black Fit 9-23 Tooth Gears
Innovative locking cassette removal tool available only from Pedro's
Secure, no-slip, no bloody knuckles, way to hold cassette during removal - once you try it will never go back!
Made from heat-treated steel tool for the ultimate in strength and long-lasting performance.
Updated jaws work on track cogs, cog & bb lockrings, e-bike chainrings, and cassettes.
Updated adjustment knob features gear size indication for quick reference of the current tool setting..Adjustable folding design securely locks in place ensuring positive engagement and preventing slip..Fits 9-23 tooth gear sizes and 40-46 mm OD lockrings with opposing notches. Compatible with all multi-gear cassettes and all standard width cogs and e-bike chainings.
Durability
This tools is extremely well made. It is solid, sturdy and ready to be used time and time again. 
Pedros offers a lifetime warranty on their products. The warranty is good for defects, breakage, and malfunctions.  If you are interested here are the full Pedros Warranty Details.
Customer Feedback & Reviews
With this being an updated new tool there is not a whole lot real world experience yet. As some of the reviews start to come in we will get them added here.    
It is fair to say that the original vise whip is so highly regarded we expect this version to be well reviewed also.
My personal opinion
The lifetime warranty and the quality and rating of the reviews leads me to believe that the Pedros Vise Whip II is one of the best cassette pliers out there. And I have no hesitation in recommending it.
Pedros Vise Whip
Overview
MSRP: $64.99
Street Price: about $55 – $65
First Available: January 2009
Manufacturer: Pedros
View at Amazon: Pedro's Vise Whip 
This is one of the best options available. Extremely well made and super easy to use.
Sale
Pedro's Vise Whip
Locking jaws will not slip
Heat-treated steel adds durability
NOTE: Not designed to work with 1/8" track cogs
Lifetime warranty on all Pedro's tools
Ease of use
The Pedros vice whip cassette pliers do not work on ⅛ inch (0.3175) sprockets. For this reason it isn't as flexible as the other cassette pliers on this list. But, it still works very well on all other sizes of cogs.
Durability
Pedros offers a lifetime warranty. The warranty guards against defects malfunctions, and breaks. If they are able to offer a lifetime warranty, it is safe to say they have confidence in their products. 
Customer Feedback & Reviews
It has a star rating on Amazon of 4.9/5 after more than 75 reviews from around the world.
People say they love to use it, and find it very easy to use. Others have said that they have tried other cassette pliers, and other tools to hold their cassette in place, but this one performed the best, and actually did the job. 
They also say that you can get a lot more leverage on it because of the angle you can use it at. Which makes holding your cassette in place easier on your arms, wrists, and hands.
My personal opinion
The lifetime warranty and the quality and rating of the reviews leads me to believe that the Pedros Vise Whip is one of the best cassette pliers out there. And I have no hesitation in recommending it.  If Possible, I would opt for the newer version the Vise Whip II. 
Park Tool CP-1.2 Bicycle Cassette Pliers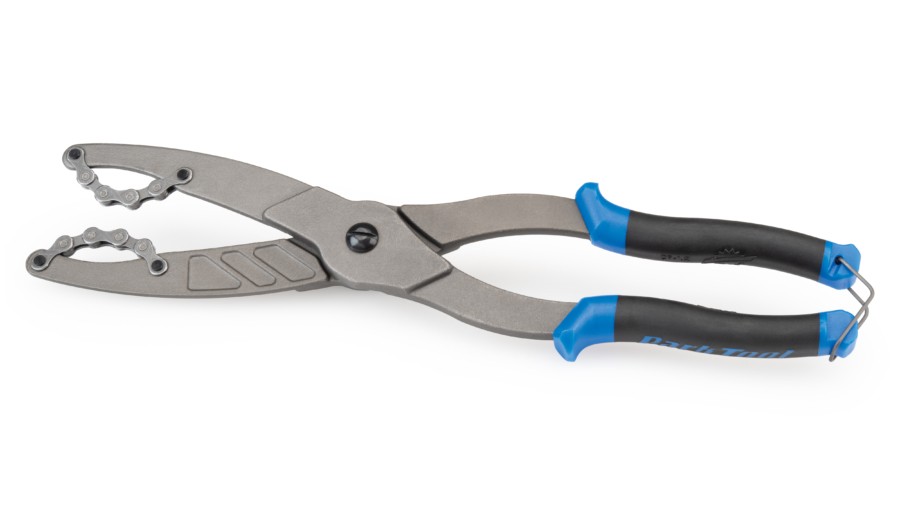 Park Tool CP 1.2 Cassette Pliers Overview
MSRP: $48.95
Street Price: $50 – $55
First Available: March 2019
Manufacturer: Park Tool
View at Amazon: CP-1.2 - Cassette Pliers 
Park tool may be the largest tool manufacturers and this is their newest cassette plier model. 
CP-1.2 - Cassette Pliers
Secure engagement, easy to use, and fast
The CP-1.2 is 13.7" (35cm) long
Forged steel construction with a spring loaded return and comfortable dual density grips.
Ease of use
A rating of 5 out of 5.
The Park Tool CP-1.2 can grip a wide range of cassettes without you needing to adjust the tool. This will save you time. You can simply grab it out of the draw, or tool rack, and clamp it on. 
Durability
Park Tools, in business since 1963, have become a very respected and trusted brand. They have a history for quality tools,
They are well known in the industry for creating high quality products. So, it's my opinion that this item is most likely very durable.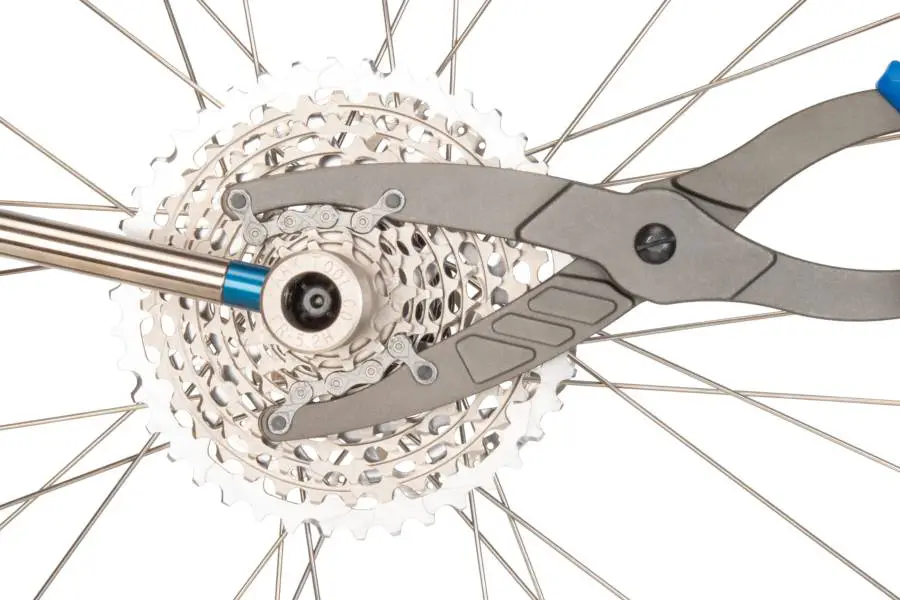 Feedback from people who have bought it
Many customers who have bought it say how awesome it is, and wish they had bought one sooner. They say that they love the fact that it is easier to use than a normal pair of cassette pliers. Because you don't have to adjust it before you use it.
My personal opinion
Park Tool creates quality products and this pair of cassette pliers is no exception.  The CP-1.2 is the updated model for the 373-246, so if you have the option to purchase both, I would go with this pair. 
The fact that they don't need adjusting saves you more time, and is easier to use than adjustable pairs. For these reasons I definitely recommend them as a good choice for cassette pliers.
Park Tool 373-246 Cassette Pliers
Park Tool 373-246 Cassette Pliers Overview
This is Park Tools older cassette pliers model. It has been replaced with the above CP 1.2 Cassette Pliers (Above).  Even though it has been updated, we still have it on the post because it was so popular and still available for purchase.
Ease of use
A rating of 4.5 out of 5.
The Park Tool 373-246 pair of chain whip pliers have a comfortable grip. Which means you won't tire out your hands and wrists as much. It also has a spring loaded design, that makes it easier to take off once you've removed the lock ring. With other cassette pliers that aren't spring loaded you have to pull them open again with both hands, kind of a pain in the blank. So, this design feature makes them way easier to use.
Durability
Park tools are respected by cyclists the world over for the quality and durability of their tools. Many bike mechanics and everyday cyclists swear by how long they last, and report that they will last a lifetime.
They are also made in the USA which has a reputation for making quality products.
In my opinion these cassette pliers are extremely durable. And the most durable cassette pliers money can buy.
Feedback from people who have bought it
It has an Amazon star rating of 4.8 out of 5 after 40 reviews.
Customers who have bought them and left reviews have said that one of the advantages of it is that when you loosen the lock ring, it won't damage the cogs or the pliers. This is especially helpful if you swap out a fixie with a multi-gear cassette regularly.
It also means you can use your cassettes on other bikes. Or, keep it as a backup. Many customers report how much leverage you are able to generate with it over a chain whip. That makes it far easier to remove your cassette ring because of how tight and strong you can hold the wheel.
My personal opinion
I think these cassette pliers are durable, work really well, and last for a very long time. For these reasons I think these are a solid buy, and you can't go wrong if you decide to go with these.
Venzo Bike Bicyle Cassette Freewheel Remover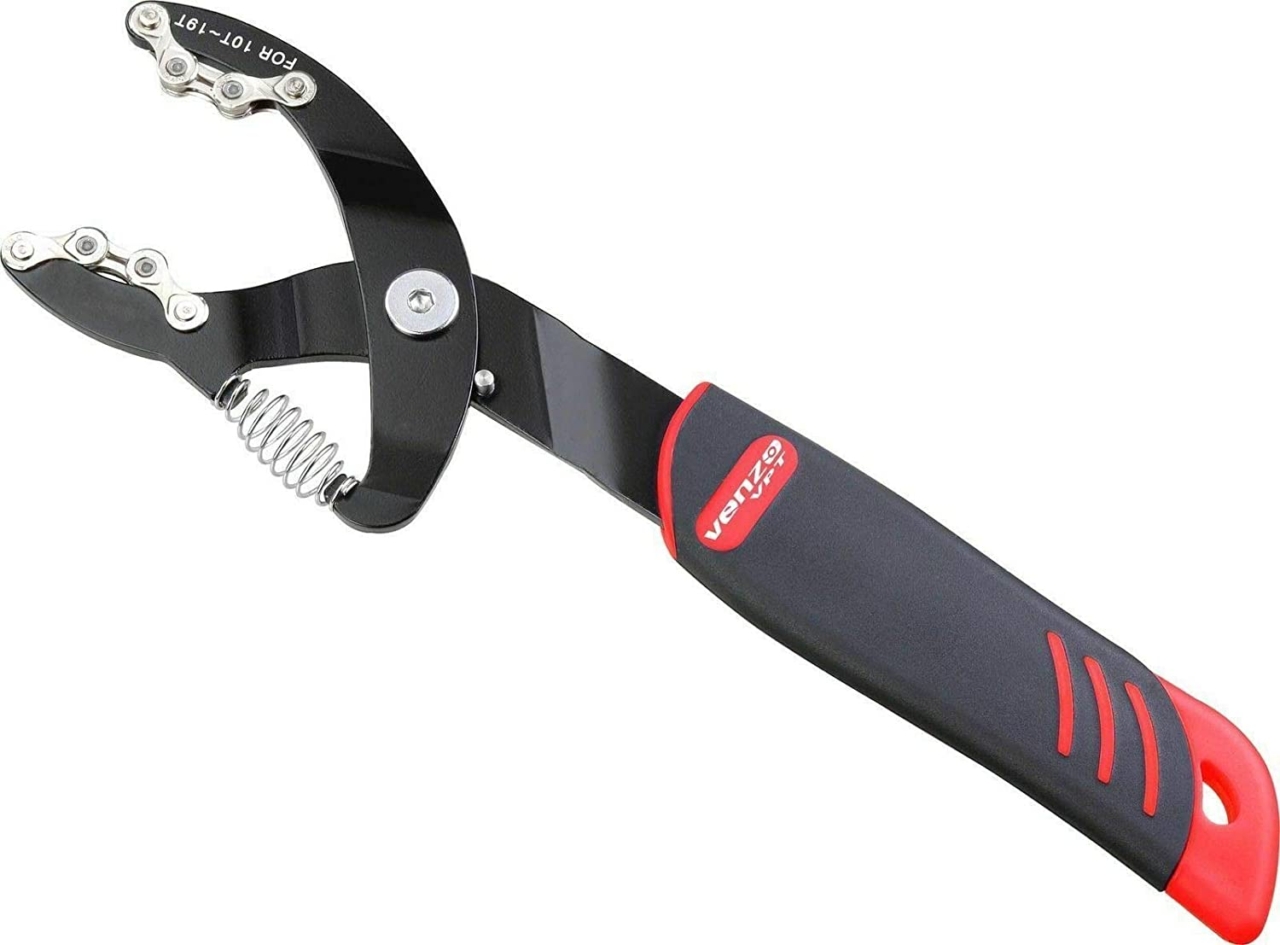 Venzo Cassette Remover Overview
This is definitely one of the less expensive options but it is very well made and has a patented design. 
Venzo Bike Bicyle Cassette Freewheel Remover Chain Whip 5-11 Speed
Innovatively designed to secure cassettes by pivoting with one hand, it protects your hand from sustaining injuries.
The predictable adjustable opening can be maneuvered quickly to fix on cogs with gear sizes ranging from 10-19.
It is compatible with 7-11 speed chains and lowers the possibility of deformed sprocket caused by non-professional mechanics.
Because of the recoil spring, the cassette sprocket will be tightly attached to the tool; this prevents the sprocket from falling off the hub and eliminates the concern of having sprockets strewn all over after the lock ring is loosened and removed.
ORDER NOW, WORRY FREE! We're so confident about our product quality that we can provide a life time warranty! Made in Taiwan.
Note: Although, it is named a freewheel remover it functions exactly like a pair of cassette pliers.
Ease of use
I give it a 5 out of 5. Although it is very sturdy and strong, it also has a non-slip and ergonomic grip. That stops your hand from slipping and gives you a solid grip. It also has a hands free spring loaded clamp. So, you don't have to get grease and dust on your hands, which is a pain to wash off. Clever thinking by the people at Venzo.
Durability
Some customers have mentioned that they have broken other cassette pliers before using this pair. And that for the price they are comparable in quality and strength to the more expensive Park tools brand.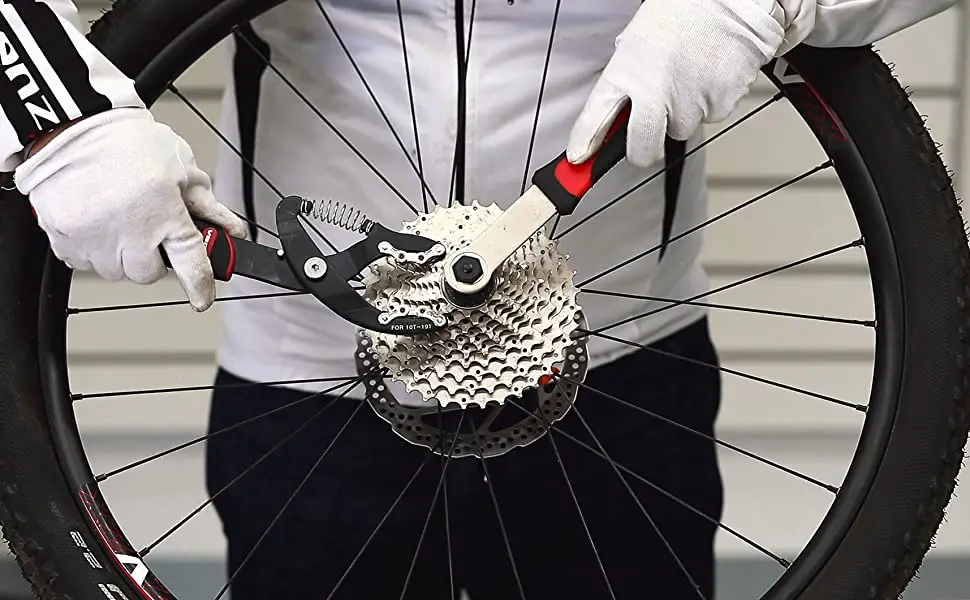 Feedback from people who have bought it
Most customers have said that they have found this pair of cassette pliers on par with the Park tools cassette pliers. Which are considered to be the highest quality cassette pliers you can buy. But, these are at a much cheaper price point.
Although, it doesn't come with a lockring removal tool. It works brilliantly and has an Amazon star rating of 4.5 out of 5 after more than 60 reviews. Which means you can be very confident buying this pair of cassette pliers and that it will work well, and hold up for a long time.
It also comes with a lifetime warranty, however, there isn't any information on the Amazon product page about exactly what this covers.
My personal opinion
This chain whip tool is a solid option, and comes in at a very reasonable price of $20. There differentiating feature of these cassette pliers is the spring loaded clamp. For an everyday cyclist I definitely recommend it.
If you are swapping out cassettes frequently for example in a bike shop, I would go with one of the Park tools branded cassette pliers, just because of the larger amount of ratings, and the fact that they are such a trusted brand. But, for an everyday cyclist this is a cheaper option that works just as well, but may not stand up to the rigors of constant everyday use, like would occur in a bike shop.
Feedback Sports Cassette Pliers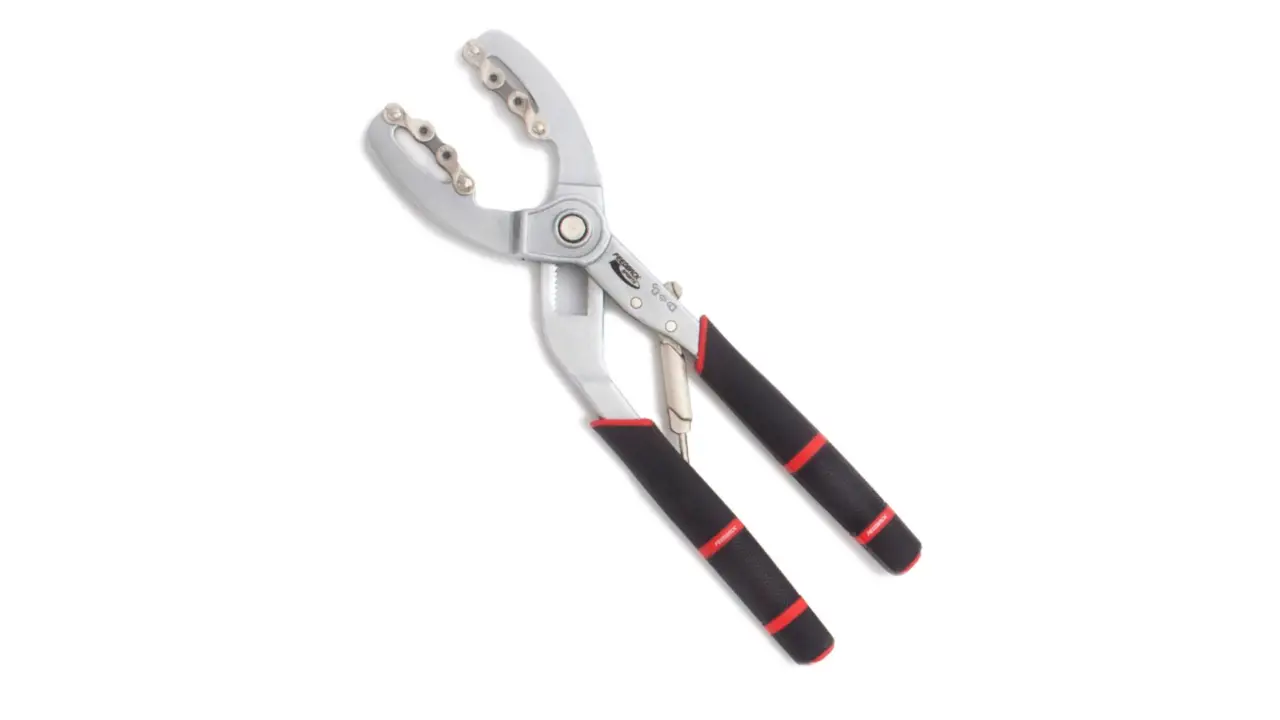 Feedback Sports Cassette Pliers Overview
This is one of the less expensive options that is from a fantastic company. We are a huge fans of their work stands as well as bike stands.
Sale
Feedback Sports Cassette Pliers
Secure, non-slip engagement
Self-adjusting from 10T to 26T cogs
Suitable for 1-12 speed Sram, Shimano and Campagnolo drivetrains*
Self-adjusting arms make cassette removal fast and easy
Closure lock keeps tool closed and compact when not in use
Ease of use
The fact that is has a non-slip moulded handle makes these cassette pliers easy on the wrists and hands. Which gives you a better grip, and stops your hand slipping off. Leading to less hand injuries.
Often when working with cassettes your hands can slip and hit the cassette grazing your knuckles. Which is one of the most annoying things that occurs when working with your cassette. However, the non-slip grip makes this almost impossible.
Durability
It is made from cold-forged and hardened chromium-Vanadium (CRV) tool steel that is incredible strong. It is the same steel that is typically used on common hand tools such as wrenches that require a very high strength. So, it is as durable as your wrench set.
Feedback from people who have bought it
Unfortunately, there is no feedback available from customers who have previously purchased this paid of cassette pliers. But, the brand itself won an award in 2019 for the best gear of the year, for their bike stand. And they have various indepth reviews by cycling magazines available on their website by clicking here.
My personal opinion
My opinion is that this pair of cassette pliers is solid, and they are a reputable brand. But, the lack of reviews does give me some caution. They are priced at the slightly higher end of the range at $39.99 which is similar to the Park tools branded cassettes. I feel MORE confident in the Park tools branded cassettes. But, these are still appear to be a solid pair of cassette pliers, that will get the job done.
Additional Cassette Plier Considerations
Why you would need to remove a cassette
Throughout the life of your bike you will want and need to replace your cassette. A cassette will typically last 2,000 miles (3,200 km) of constant cycling. An average person can cycle 10 miles in 30 minutes. That means if people use their bike to commute to work everyday it would, a cassette would last 200 days.
But, you should be aware that this is cycling with constant strain on the chain. Meaning you are propelling the bike forward directly with the motion of your pedal.
Most trips involve a lot of intermittent pedalling, and stretches of down hill that require no pedalling. So, depending on the terrain that the bike is used on will usually mean that your cassette will last a lot longer, over a year or so.
Over time a cassette will become worn. The individual teeth of the cassette will become smaller, making it harder for the chain to remain attached to it most of the time. When this happens the chain will slip. It can go up and gear or down a gear without you changing the gears. It will also cause a failed pedal. Where you will be pedalling but the chain skips a few. It is very annoying when this happens. Sometimes, it can occur because the chain has become stretched, and well as the cassette being worn down.
Do you need cassette pliers?
You don't necessarily need cassette pliers because you can use another tool such as a chain whip. Or, make your own chain whip using tools you can find in your home. I wrote a how-to article about how to make your own chain whip at home, using common household items, or ones that are easy to get.
But, cassette pliers make the job a lot easier. And some people are unable to loosen the cassette lock ring without using them. Because some cassette lock rings are on very tight or can become rusted to the cassette. Which means you need to use a lot more strength to loosen them.
With a cassette whip, or a homemade cassette whip you often don't have the leverage and the holding power to remove the lock ring. You can also get slippage which damages your cassette. Which causes increased wear and tear on your chain.
Overall, most everyone who has used a chain whip and cassette pliers recommends to use cassette pliers.
Other Cassette Removal Options
There are two options for removing a cassette other than cassette pliers, they are:
Chain Whip
Making your own chain whip
Chain Whip
A cassette whip is a tool that has a chain attached to a piece of metal. It sits on the cassette like the bike chain would when you are riding it normally. But, it only covers a small section of the cassette.
You hold the tool in place and unscrew the lock ring. You also use it when tightening the lock ring again. There are many different types and designs. Because it's very difficult to loosen the lock ring without one, they are very popular and get used by many bike shops and cyclists.
Due to their design it is often difficult and physically hard to use. The leverage and angle you can get with one left a lot to be desired. As a result, bike tool designers came up with something better, the cassette pliers.
Nearly everyone who uses cassette pliers says they are dramatically easier to use than a cassette whip.
2. Making your own cassette whip
You can make your own cassette out of anything that will firmly hold a piece of bike chain in place. Where you can use it long enough to get the lock ring off. Some options are screwing the chain to a piece of wood. Or, holding a piece of chain in a vice.
The main issue is that you need a lot of 'torque' meaning you have to hold it in place very hard to get most lock rings off. But, it's definitely doable.
I have included a link to a recent article I wrote all about how to make your own cassette whip.
Interested in a DYI cassette removal? Here is our post on how to make a homemade chain whip.
So, I looked through the different options carefully, and summarized the best ones according to that criteria below:
Conclusion
The best cassette pliers are made by Park tools and Pedros. This is because they are easy to use, durable, and have good customer reviews. If you're wanting to try out cassette pliers over a chain whip I thoroughly recommend all of those from numbers 1 to 4 on this list. The last pair on this list the Feedback Sports model appears to be solid, but because there are no reviews, it gives me some hesitation.
Further Reading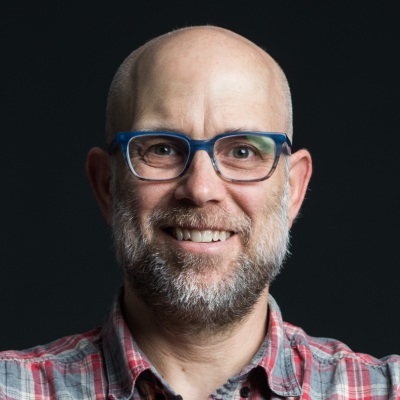 I am Steven Johnson. All my life I have been riding bikes, even working as a bicycle messenger in Australia. I love riding road, mountain, single speeds, bmx, and everything else.  As a web designer, creating this site was a natural fit. If you have any questions please let me know.  Enjoy the site and Keep on Pedaling!!!